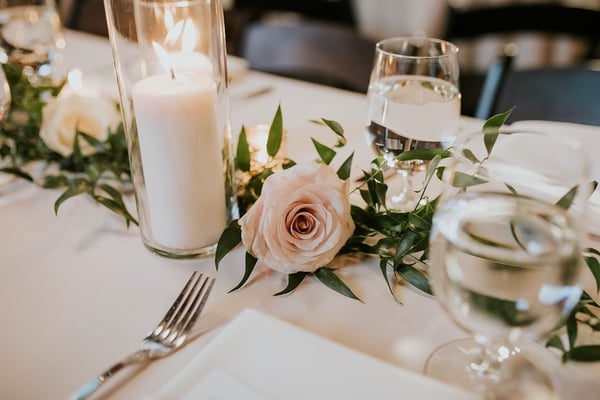 Touring wedding venues is exciting, but it's important to remember that you are there on a mission! Asking the right questions while looking for venues is crucial to finding the perfect fit for your wedding needs. Your dream wedding venue will be beautiful, but should also offer all of the amenities and functions that you can't imagine the day without. We've put together the most important questions to ask when touring wedding venues below:
1. What dates do you have available?
If you have your heart set on a certain date or month, you'll want to find out if it's feasible right away.
2. How many people does the space accommodate?
You obviously must ensure that the venue can host all of your guests, but you'll also want to make sure that it's not too big! An oversized venue can lead to awkward spacing as guests will end up way too spread out over the night.
3. What is included in the base price?
Some venues include things like tables and chairs in their pricing, and some don't! You'll want to find out what you'll need to pay for separately ASAP so that you can factor in the cost for additional vendors.
4. What amenities does the venue feature?
Think about things that you might want for your wedding such as guest parking, a coat room, cocktail hour space, etc.
5. Is gratuity included?
Don't end up double tipping! Find out whether your billed price includes gratuity. This can be a sizeable cost difference when comparing two different venue estimates.
6.o How many hours does the rental fee include and what is the cost if you go over the allotted time?
Finding out how many hours you have to celebrate is essential for planning out your day. Venues typically charge a fee for every hour you go over your contracted time, so plan ahead!
7. How much is the deposit and is it refundable?
If COVID-19 has taught us anything, it's to prepare for the unexpected! You never know what may happen, and it's important to know if you'd be able to get your deposit back in the event of a change in plans.
8. Is there a bridal suite or somewhere for the wedding party to change?
Having a designated place to bustle your gown, change shoes, and store the wedding party's bags can be a great amenity on your wedding day! Ask if the venue has a room available for this and if it is an additional cost.
9. What is your weather contingency plan?
Even though people say that rain on your wedding day is good luck, make sure your wedding venue has a backup plan if any part of the celebration is outside!
10. Do you have required vendors?
Some venues have a list of vendors that you must choose from – if that's the case for you, you'll want to make sure you're okay saying yes to both the reception venue and the vendors they're requiring.
11. Can we bring our own alcohol?
Bringing your own beer, wine, and spirits is a great way to cut back on bar costs, but not all venues allow it! Double check on your venue's policy and be sure to account for the cost of the venue's bar if you were planning on BYOB.
12. Are we able to have a live band or DJ?
Some venues may have noise or space restrictions that prevent them from having people perform. Make sure that your chosen entertainment won't be an issue for the venue.

All of these questions will help you find your perfect wedding venue among the endless options! Even if you ask every single one of these questions, be sure to read through your contract in entirety before you sign it. Hidden fees and policies aren't brought up on the tour, so you'll want to be 100% certain that you know what you're signing up for.